International Beatles Weekend
We plan to have the Church open to visitors over the Bank Holiday weekend as follows:
Fri 23rd Aug 10-12.30 (then a wedding);
Sat 24th Aug 10-4;
Sun 25th Aug 12-4;
Bank Holiday Mon 26th Aug 10-4
Friday, 23rd Aug from 10.30 am –12.00 noon. Beatles Singalong in the Church Hall.
Why not join in the celebration?
Last year we celebrated what is the start of International Beatles Week and we were joined
by a number of impressed visitors. All this for a £1.00 donation including light refreshments
On Sat 24th Aug the Bell Tower is open for tours from 1 pm until 3 pm.
Our 10 bells will be ringing too!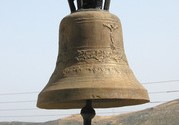 Did you know that only 290 churches worldwide have 10 bells? And within Liverpool diocese only
the Anglican cathedral & St. Nicholas Pier Head have 12 bells.
Why not come down and try out bell ringing for yourself?