One way to support St Peter's Church and to treat yourself or a loved one at the same time is to buy from our range of merchandise.  All proceeds go towards the upkeep, maintenance and financial commitments (including the support of various charities) of St Peter's Church and every penny really does count!
All items are available to buy from the Hub — although we do recommend phoning ahead as opening hours can vary — or you can buy from our online shop by clicking HERE
Own a Piece of History!
Our Beautiful and Historic Stained Glass
The beautiful stained glass had to be removed from St Peter's Church Hall back in 2020 due to safety reasons. Each panel was dismantled by hand and the glass is now for sale with various options available in our eBay shop HERE! You can read the fully story of the process here.
St PETER'S CANDLES NOW IN STOCK
These gorgeous candles come in two different scents – Clean Fresh Linen or Citrus Lime & Mandarin!  Only £7.00!
The day that John Met Paul
We have a range of merchandise celebrating the day that John Lennon met Paul McCartney in the Church Hall on July 6, 1957, including t-shirts featuring our brand-new design (only available online currently)!
To see all the items available for sale, click the shop link here

All items (with the exception of the grey t-shirts) can be bought from the Hub or from our online shop!  Contactless and card payments now available!!
To order from the Online Shop
Full information on how to order from the online shop, including postage/packing charges, can be found by visiting the St Peter's Heritage website HERE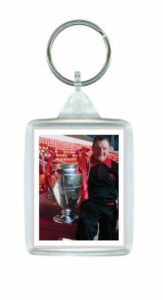 Any Questions?
Email us at [email protected] and we will be glad to help!
Please note, however, that the shop is staffed by volunteers who may not be able to reply to your query or your order request immediately. We aim to reply to all emails within 48 hours (but it's usually a lot less!). We appreciate your patience and your understanding!